Not Much, What's Up With You?
Located in the heart of the Inland Empire Redlands, California; UpDog is a fun, energetic, fast-growing company that is dedicated to helping small businesses in our local and surrounding areas grow their businesses through traditional and digital marketing. We are driven to provide measurable results through attractive and functional websites, local search engine optimization (SEO), paid search advertising, social media management, sales funnels and lead generation, direct mail and more.
We bring over 20 years of website development and internet marketing to the table. Since the launch of UpDog Media in 2010, we have quickly become the go-to company for local businesses when it comes to complete marketing and branding.
Not only are we digital marketing experts, but we are also a business superstore!  That means we have everything you need to create an impact and drive sales, right here at our store.  We are local!  You can work directly, face to face with our talented team of marketing gurus, graphic designers, developers, content creators, and videographers.
UpDog brings signs, print, digital, marketing and business services to local businesses via a storefront approach, with a "hospitality" twist. We are a modern store, that offers a face-to-face experience like no other. We are a Business Superstore that in a nutshell provides a simple single-source solution to a complex group of products and services, in a one-stop-shop location that people love to do business with and want to be a part of.
UpDog is on a mission to help business owners grow and thrive, also to nurture new business startups by providing products, services, and support that excel them to the next level of success.
UpDog is more than a "print shop" or a "marketing company", UpDog is a movement. A different approach to how entrepreneurs and businesses seek out tools and information in a community environment that fosters a "business helping business" atmosphere offering a feeling of support, motivation with access to services, tools, and resources.
What do the paws represent?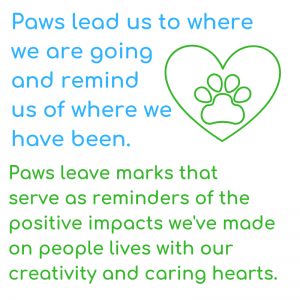 UpDog is a philanthropic company. We are actively involved with many local organizations and charities. Our entire team has a gratitude attitude. We are grateful for the opportunities we have been provided by local businesses that put their trust in UpDog and we honor that by giving back to our community at every opportunity.
The list of products and services that UpDog offers continues to grow! Our business owners teach us every day about their needs and what would help them. From there, we create tailored solutions that they can use in the day to day operations of their business. Here are some of the current solutions we offer:
VISUAL COMMUNICATIONS
Business Printing – business card, brochures, flyers, etc.
Large Format Printing – banners, posters, corro board, foam board, acrylic, wood, etc.
Signage – monument, dimensional lettering, ADA, storefront graphics, etc.
Promotional Products – mugs, pens, mousepads, etc.
Apparel – screen printing, embroidery, direct to garment
Vehicle Wraps – fleet graphics, business wraps, color change, auto restyling
Interior Restyling – walls, murals, color/texture changes on doors, furniture, etc.
Graphic Design – re-branding, logos, etc.
BUSINESS SOLUTIONS
Business Development
Consulting
Start-Ups
Business Plans
Sales Training
Sales Presentations
Sales Decks
Workshops
Leadership Training
MARKETING
Websites
Digital Marketing
Lead Generation
Advertising
Direct Mail
Email Campaigns
Automated Follow Up
Call Tracking